Thinking of starting a shawarma restaurant? Allow Raqtan, the GCC's most trusted supplier of commercial kitchen equipment, to help you with your shawarma start-up. We answer the top questions of budding shawarma operators looking to set up shop
1.
What makes a good
shawarma business?
Setting up a shawarma restaurant continues to attract newbie food entrepreneurs across the GCC. With its signature combination of hot meat (cubed or sliced), salad and flatbread, the savory shawarma – or 'kebab' as it is known in Europe – is a great product to sell if you are just starting out in the restaurant business. The shawarma is the quality fast food of the Middle East.
To the customer, the shawarma offers an inexpensive meal-in-one that is hot, tasty and nutritious. To the business owner, the shawarma offers the key advantages of being cheap to source ingredients for, simple to prepare and fast to cook. 
Getting your shawarma perfect (as well as making tactical choices about which types of shawarma to specialize in) is just one of three top tips for a successful shawarma start-up:
Giving your shawarma stand-out!
Even as a beginner to the shawarma sector, you can make a big splash by focussing on one memorable offering to your customers. Maybe you sell the healthiest shawarma; the biggest shawarma; the most traditional shawarma; the biggest range of shawarmas; the cheapest shawarma: the most gourmet shawarma. You have many choices. Stick to promoting one thing only. Your brand needs to stand out with one single point of focus, whether that's for customers in your shop or just checking you out on social media.
Location, location, location
Don't snap up a cheap venue or pitch and then pray that customers will come to you. You need to go to where potential customers are already. And that means places of high footfall, like shopping malls, office areas and tourist attractions. High footfall venues are expensive to lease. Go with it. You need to spend every Riyal you can on maximizing traffic past your front door.
Don't skimp on equipment
The last thing you want as you start a business is equipment breaking down. If you buy a second-hand grill and it mysteriously stops working, you will have no recourse, no maintenance or re-supply deal. Get serious with a full equipment strategy and be prepared for the future; speak to Raqtan to see what quality of after sales service you can expect from experienced providers of commercial kitchen equipment.
2.
What makes a successful
shawarma
business plan?
As a budding restaurant entrepreneur, a shawarma start-up makes a lot of sense. That's because start-up costs of (very roughly) SAR 200,000 for a basic shawarma set-up compare very favorably with start-up costs for most other types of F&B niche. A sandwich kiosk, for example, is likely to cost another SAR 100,000 to get off the ground. 
Why do you need a business plan at all? Can't you just spend some money on equipment, put on an apron and get started on dishing out juicy shawarma? There are two reasons why you need a business plan: you risk going into business blind without having done some research, and without a business plan you will not be able to attract investment if you need to borrow.
You might get lucky. But generally, new shawarma businesses need some simple goals for the future. Most importantly, you need to have done your research in key areas like location, target market, permits and operating costs. Your shawarma can be the best in the GCC but if you have set up shop in the wrong place, your business will fold. 
Your shawarma business plan gets down your research and ideas in writing. Potential investors will want to see that you have worked out your full operating costs and have a realistic plan for covering these costs, as well as making the investors a profit (eventually).
Your shawarma business plan, therefore, needs to center on providing a decent product at a reasonable price at a location where there is enough potential custom to pay for all your monthly running costs – and turn a profit. A successful business plan for your shawarma start-up is, therefore, a challenge, but here's a good sample structure to flesh out yourself:
3.
How much does a
shawarma restaurant
cost?
Here at Raqtan, we consider between SAR 100,000 and 150,000 to be the minimum level of investment into a small start-up shawarma restaurant. But with a robust equipment setup that will last you for decades, you might budget for SAR 180,000 to SAR 222,000. See our Solution Selector app for details.
To arrive at your particular start-up cost, you will need to appraise for yourself the following cost factors and total them:
4.
What is the best location
for my
shawarma start-up?
The simple answer is: the best location for your shawarma business is the busiest place you can afford! You are in a high-volume business. So your venue needs to benefit from high footfall. 
Get your business hat on: even if you provide an outstanding level of value or quality, your business will go nowhere without impulse trade. That means people passing your outlet and being drawn in by either a) your marketing displays b) the delicious smell of your cooking or c) the crowds of hungry customers you have already attracted. 
Because shawarma is native to the Middle East, the market can and does support high-end, gourmet shawarma experiences – particularly in metropolitan areas like Riyadh, Jeddah, Abu Dhabi and Dubai. For some established restaurant brands, customers will make a special journey.
But with a shawarma start-up, unlike a fine dining restaurant, it is unlikely that customers will track you down – so you must show up where they are present already, and that means high traffic areas, where leasing/permit costs are high, like shopping malls and tourist areas.
5.
What licenses and
permits do I need for
my new shawarma
business?
One of the first things you should do when planning your shawarma start-up is to check with your local municipality what permits are required. 
Your venue type will determine what sort of legislation you can expect. If you have a fixed kiosk or restaurant, you will have different obligations than if you have a mobile truck/cart/kiosk. 
You might find for example, as in Dubai, that only a limited number of permits are given out each year for mobile street food kiosks. Naturally, the authorities do not want there to be too many; and nor do the owners who already have licenses, because that means more competing businesses.
Make sure you start off your business on the right legal footing.
6.
What is the best layout
for my
shawarma outlet?
You want your venue layout to get customers in and out of the door as quickly as possible. Rather like the burger business, the shawarma sector is about volume sales rather than high profit margins. So that means you should plan for maximum customer access to your counter and keep any aisles and doorways clear. 
Even if you are operating from a mobile kiosk, layout around your area is crucial: make sure any marketing boards on the pavement are set well away from where customers need to move in order to access the counter area and then leave. If you have enough space to allow customers to mill about as they are waiting, ensure they are presented with big boards/screens showing your menu. Set up an informal one-way system to maximize customer throughput.
7.
What is the best menu
design for my
shawarma restaurant?
8.
What shawarma
equipment do I need?
The first thing you will notice with any successful shawarma kitchen is that it is full of stainless steel. Only stainless steel offers the robust, hygienic, easy-clean surface that the hot, quick business of shawarma preparation involves. 
Check out our Miran brand. Complete with ISO 9001 2015 certification and precision CNC-engineering, Miran makes Ratqtan recognized experts in stainless steel commercial kitchen equipment. For the budding shawarma entrepreneur, we have all the stainless basics covered:
Grease traps, sinks, mop sinks, barista stations, bain maries, exhaust hoods, work table, dishwashing tables, 8 different types of shelving, cabinets, racks trolleys and ice bin.
And, if our experts do not make what you are looking for, one of our trusted international partner brands will!
Why not take the guesswork out of selecting your shawarma equipment, by using our powerful new Solutions Selector app?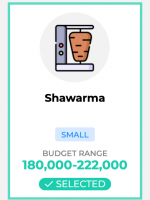 You can select one of many F&B business types – including shawarma – for a full breakdown of recommended equipment and costs.
A sample equipment breakdown for a new Shawarma kitchen
(created by Raqtan's Solution Selector app)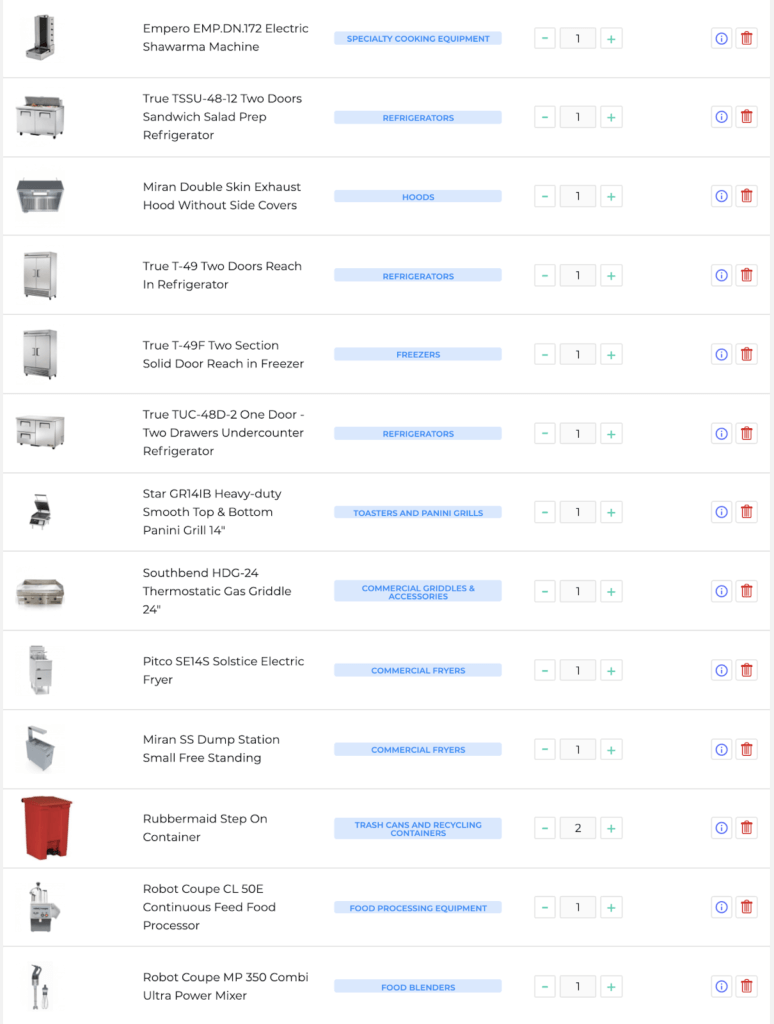 Overall, Raqtan recommends that you, as the new shawarma operator, consider the following equipment for your commercial kitchen (however small):
9.
What is the best POS
software for my
shawarma restaurant?
Unless you are offering seated dining and waiting service, your new shawarma business will not require a full POS suite with computer tablets. 
It is likely that you will just need a basic till, and the time to get yourself properly trained up on it. Make sure you can accept card payments one way or another.
10.
What is the best way to
train my shawarma
staff?
Your new shawarma start-up could do with at least two staff. That includes you. Ideally, one person can handle most of the cooking. The other person can handle most of the business side; do not under-estimate how much time you will spend catching up with administration, accounts, as well as issues of staffing and equipment.
If you are thinking of starting a shawarma business, but you have never produced a single shawarma – maybe you should think about getting some hands-on experience? The great thing about shawarmas is that they are easy to get the hang of. So get a job learning the ins and outs of shawarma production. Then you can pass on your experience to your own staff. 
11.
How should I plan my
shawarma business
grand opening?
Thank you for reading Raqtan's guide to starting up a shawarma restaurant. 
We have been providing commercial kitchens for thirty-five years now, and we have learnt that, in the shawarma sector, simplicity works best. Start off with an uncomplicated business plan; set yourself a single, key goal – like selling so many shawarmas a day. Centre your service offering around a single shawarma favorite; get good at cooking it! And, whatever you do, be sure to invest in decent equipment from a reliable manufacturer with a structured maintenance plan. Without your main kitchen equipment, your new shawarma start-up is nothing – so don't leave it to chance.
Good luck with your new venture!  
Restaurant Food Truck Coffeeshop Pizzeria
Do you plan your own business?
Evaluate the cost now!​