Starting a cafe in the GCC? For your cafe plan startup to be successful, you need to create a coffee shop business plan. Investors need to know your business plan – so give them a business proposal! Below is a simple and effective template for your coffee shop plan/cafe business plan.
Starting a coffee shop/cafe business in Saudi Arabia or the rest of the GCC makes perfect sense right now. And that's because coffee here is a booming business – with coffee as a cultural beverage having its roots right here in the Middle East.
There is nothing more Arabic than coffee. The Arabic word 'qahwa' is where the English words 'cafe' and 'coffee' come from. Over the last decade, imports of coffee to the Kingdom have risen by over 40% – and imports to the UAE have skyrocketed by almost 250% (ICO figures). The coffee sector is in great shape. Get involved! But don't get involved unless you have a firm plan for how you are going to succeed.
Your Coffee Shop Business Plan
All successful cafe/coffee shop startups begin with a business plan. Your business plan sets out how you are going to run your business and why you think it will be successful. You will need your coffee shop business plan to attract investors, as well as keep your operation up and running.
Take your business plan seriously! Starting a business without starting with a business plan is like setting off across the desert without a map. The good news about coffee shop startups is that the gross margin on a cup of coffee is usually around 85%; this means the actual consumables involved will only cost 15% of the retail price you can charge. The bad news is that even successful coffee shops often run on a slim operating margin of around 2.5%; this means your total profit percentage will be around 2.5% when all costs and revenue are added up. 
With your business plan, you need to make an impact. And you need to back up that impact with facts. But do not be tempted to get too complicated: your business plan should be no longer than 30 pages in length, with plenty of photographs, diagrams and images to bring your dream coffee shop to life:
1. Title Page
2. Executive Summary
3. Company overview
4. Market Analysis
5. Sales and Marketing Plan
6. Operational Plan
7. Management Team
8. Financial Plan
From your title page, an investor or business partner should be able to see at a glance that this is a business plan for a coffee shop enterprise. You should also include all contact details here.
Have you hired a graphic designer to help with all your branding (logo/menu/outlet styling/website)? If so, use your designer to design a striking title page – or use any images or branding you already have developed.
This is your 'Elevator Pitch': if you had just sixty seconds with a potential investor in an elevator, what could you say to them to convince that your cafe plan is a winner?
Here you need to summarise the best points about your business plan. And you also need to cover bases. In the Executive Summary for your coffee shop business plan you need to outline:
The concept for your coffee shop: try and summarise this in a single sentence. What's your niche? You need to include:
You also need to summarise:
For maximum impact, keep your Executive Summary to one page only. Use bullet points. And make sure you say that your business has a great location. Location is so important to the business viability of coffee shops/cafes that no investor will support you unless you have made it a priority. If you are planning a mobile coffee truck or kiosk, be sure to demonstrate that you have researched which pitches are legally available – and which you will compete for.
You have grabbed the reader's attention with your Title Page. You have summarised the strengths of your business plan in your Executive Summary. Now you need to go into detail.
This is the section of your business plan where you can tell potential investors about your inspiration as a coffee shop entrepreneur and other background information. Spell out too practical details about the ownership and structure of your company, your staff, and your mission statement.
A good way to give readers a 360 degree perspective on your startup business is to adopt the SWOT form of presentation. SWOT stands for:
This is also a good place in which to show a timeline of what you expect your business to be doing over the next few years. Key details will include the date you hope to have secured all financing by, the date you start marketing, the date of your grand opening, the date of ROI payments to potential investors – and so on. It is up to you what you include on your startup timeline. Just be sure to keep it simple and accessible.
For your cafe plan, you need to show that you understand the GCC coffee sector. You know that the market is booming – which is why you are interested in getting involved. But do you know what trends are affecting the market, and are you in line with them? For example, specialty Arabic coffee is big business, but there is plenty of room in the sector for Western alternatives. Decaffeinated coffee is experiencing new popularity too.
What's the perfect customer for your new coffee shop? Whom do you have in mind? Break down your target market by age, gender, location and income. Break it down further by providing some insights into how your customers think.
Analysing the competition is probably what got you into the restaurant/cafe business in the first place. You can do it better, right? Show a thorough understanding of your local competition, particularly in the areas of pricing, products, strengths, weaknesses – and, of course, their customers. 
Potential investors will want to see in particular that you are competing realistically. You should not be going up against established businesses without a clear idea of how you can take customers away from them. Or maybe you have found a niche which simply isn't being covered locally? Spell it out, keep thinking about it – and use this information to power your Sales and Marketing Plan.
Your marketing strategy will be based on the market analysis you have outlined in the section above.
What's your Unique Selling Point? Your USP? What special combination of product, pricing, service and branding makes your coffee startup stand out? You MUST have your USP settled before you write your business plan.
You will also need to have a clear pricing strategy. Are you going to undercut the local competition? Or are you presenting a gourmet brand which is more expensive than the competition? Either approach can work – depending on the results of your competitive review.
Your marketing proposal should include your thoughts on online advertising (your website, Pay Per Click etc.), offline advertising (local radio, press, print, flyer distribution) as well as onsite promotions. And don't forget your Grand Opening!
The key thing to remember with your marketing is to win one customer at a time. Always remember that, whatever online and offline branded content you develop, the success of your brand will depend on the level of service that customers receive when they are actually in your venue. So make sure your staff love coffee, and love smiling!
When it comes to managing a new business: why you? That's the question that potential investors will want answering.
What experience do you have personally in the coffee shop/restaurant business? Are you an experienced barista? (You need to be). You also need to love coffee.
What experience do you have in related fields? Have you ever managed a new business venture before? If not, do not worry. This is the section where you list the members of your team, and that team can include business mentors or even business consultants (if you can afford them). Because it is such hard work, the restaurant business rewards enthusiasm. But positive energy and industry will only get you so far; you need some experience on your team, and this section is the place in your business plan to show it off.
What potential investors need to see from your financial plan is:
Cash flow projection: your cash flow projection shows how much money you expect to have coming in, how much money you expect to be spending – and what the difference is between them. You need to support your cash flow projection with a variety of key data:
Supporting Data:
So what is the cost of Opening a Coffee Shop?
Equipment is the most important part of your coffee shop. And the most important piece of equipment – no contest – is your espresso/coffee-making machine. Other than that, other equipment you need for your coffee shop start up includes coffee grinders, decanters, servers, airpots, coffee and tea brewers, a high-speed oven, cafe accessories, blenders, juicers, refrigerators, sandwich prep tables, freezers, sinks, storage shelves, water treatment equipment, fire prevention features as well as cleaning and washing sundries.
Head to our Raqtan Solution Selector and see how you can save money on equipment for each type and size of coffee shop: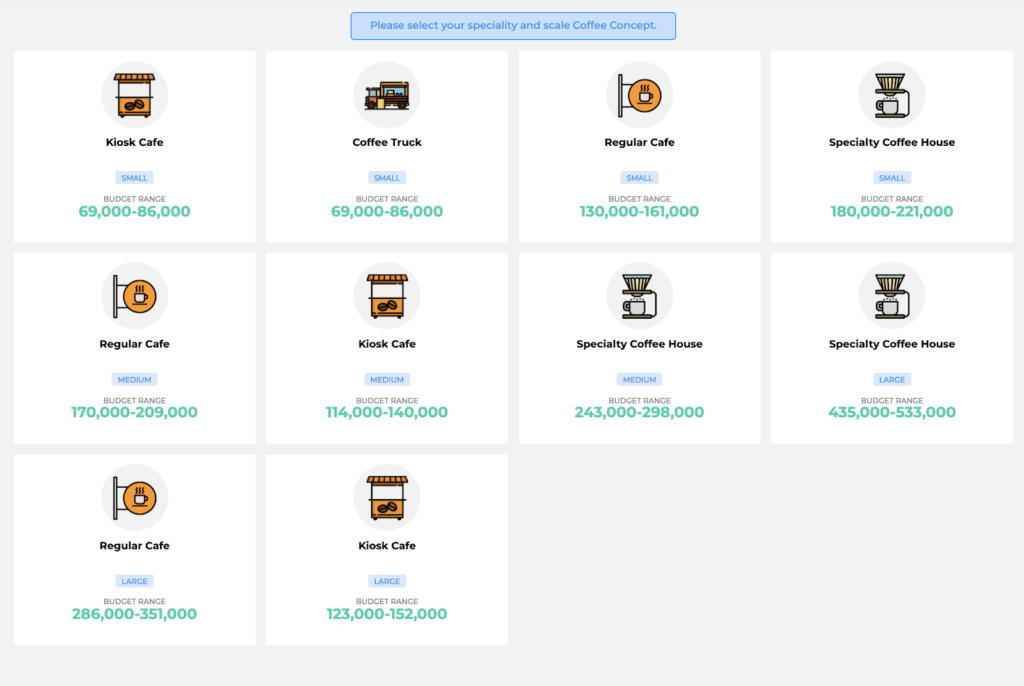 On the basis of the size of your new coffee outlet, we recommend the best of brands by equipment type: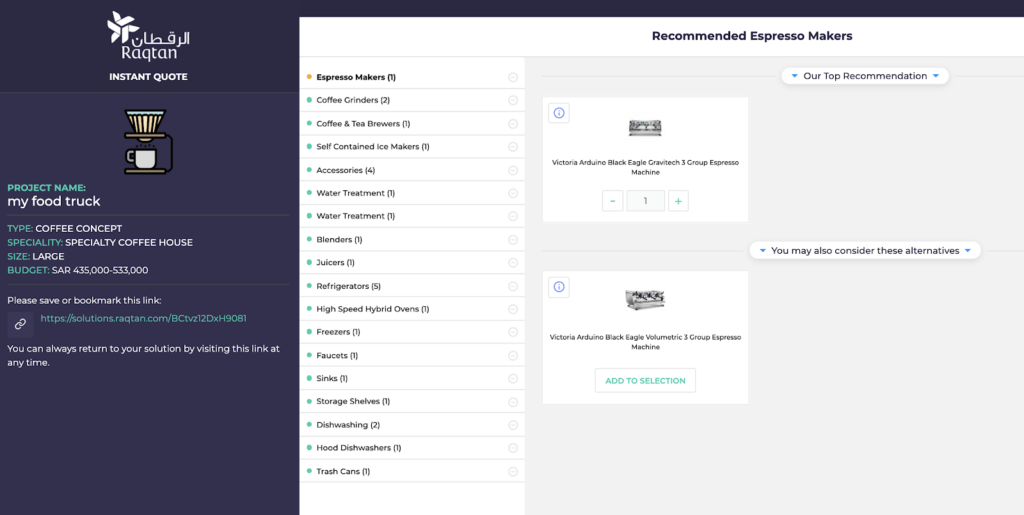 You can also check out no less than 12 other product selection solutions for other types of restaurant business: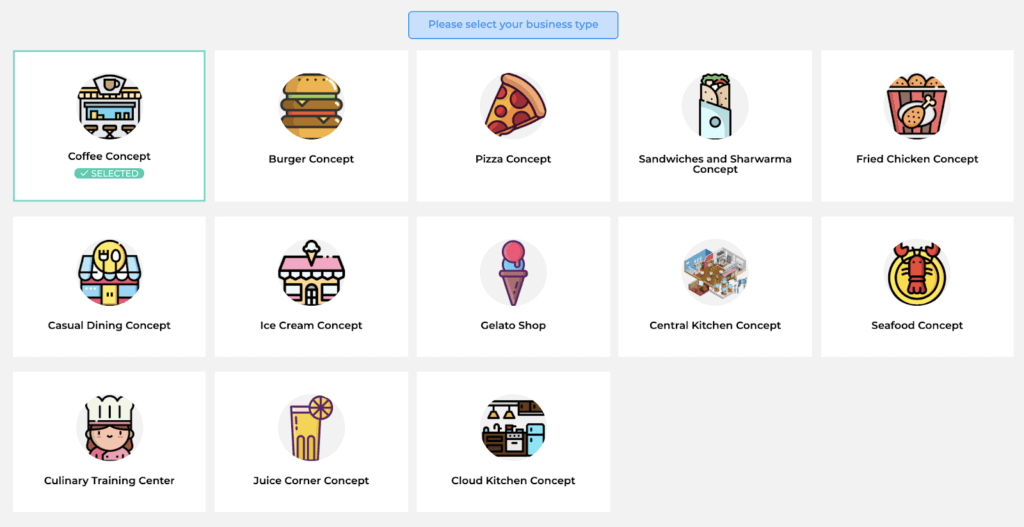 Coffee shop startup costs (other than equipment)
What is the one thing I should not worry about with my cafe plan?
Do not worry too much about giving overlapping information. It is, of course, better to be as economical as you can with what you say. But there are far worse business plan 'crimes' than repeating your strengths and opportunities …
What is the one thing I should worry about with my cafe plan?
Presentation is the key thing. No investor wants to get behind a company that can't be bothered to sell itself professionally. If you can afford a desktop publishing operator and/or graphic designer to make your business plan slick, it is well worth the effort.
Restaurant Food Truck Coffeeshop Pizzeria
Do you plan your own business?
Evaluate the cost now!​