Thinking of opening a café or a coffee shop in the GCC? Starting requirements for café equipment should be your first concern – you need a Coffee Shop Equipment List, as well as a general checklist for your café startup. 
1.
Is owning a coffee shop worth it?
Is owning a coffee shop or café profitable? The simple answer is Yes – but expect a lot of hard work to earn the average small coffee shop operating margin of 2.5%. That means you are likely to be left with 2.5% of all the money you have taken from sales – after you have taken into account every single cost (including ongoing overheads).
Does anybody make any big money out of coffee shops? Yes, the big chains do. That's because any coffee business, large or small, benefits from economies of scale. And, so the larger you are, the better you do. It's tough for small coffee shop owners – make no mistake about that. Keep the faith until your start-up takes off and you eventually become a market leader yourself!
In the coffee sector, gross margin (as opposed to operating margin) is good, around 85%. That means 85% of the cost of every sold coffee is profit – if you deduct only the cost of ingredients. But it's not the coffee itself that costs the money: it is the regular supporting expenses involved that cost the money, and these you cannot change, so operating margin (as opposed to gross margin) is minimal except for very busy smaller shops, and the big coffee brands.
You can't change the fixed cost of your ongoing overheads – like rent, equipment and staffing – and you can't charge radically more for a coffee than your competitors. Your challenge is simply to sell more. The more coffee you sell, the more you reduce the relative cost per coffee sold of each overhead cost; you become more efficient.
2.
What types of coffee shops are there?
Here at Raqtan we know our way around coffee shops. That's because we regularly supply and fit entire kitchens to a range of different coffee establishments. Check out just three of our success stories: coffee emporium Kiva Han in Riyadh and their Raqtan kitchen, Criolla in Jeddah as well as Jeddah's high-end Amama café.
Most coffee outlets offer a product mix of:
Coffee + other beverages (hot and cold) + food (hot and cold) 
That's where coffee shops are the same. But how are they different? We find that equipment requirements for coffee outlets and cafés fall into four categories:
Serving exotic types of coffee, often up-market. High investment in ambiance, decor and branding. Features seating area.
For customers on the go. Space is often an issue for convenience coffee providers, so equipment needs to be compact. No seating area.
A fixed venue offering a rounded beverage and food experience, featuring coffee. Regular cafés often feature much of the commercial kitchen equipment one would find in a restaurant. Features seating area.
Same as a kiosk café, but mobile: often cheaper to run. No seating area.
Check out our Solution Selector online. It is free. With a few clicks, you can get a full list of suggested equipment for each type of coffee shop/café.
| | |
| --- | --- |
| Type of coffee shop/café | Equipment budget (SAR) |
| Specialty coffee shop | 500,000 – 612,000 |
| Kiosk café | 141,000 – 174,000 |
| Regular café | 358,000 – 438,000 |
| Coffee truck | 132,000 – 162,000 |
But your money needs to stretch further than equipment. All coffee shops/ cafés need seed capital to cover:
3.
How do I start a successful coffee shop?
As a budding coffee concept entrepreneur, you might be asking: How do I start a coffee shop with no experience? The simple answer is: you don't. Rule number one to starting a successful coffee shop is to grab some hands-on experience as a barista. 
You might think your business plan allows you to pay other people to be the coffee maestro – but if you are not a barista yourself, you will have no idea how the industry generally does things, which will cost your wallet.
At the start of your coffee shop venture, you cannot expect to have it all. But here's a list of Top Ten Tips for a Successful Coffee Shop – see how many you can aim to achieve:
Founder: hands-on barista experience
Great coffee
Busy location
Reliable equipment & strategic servicing
Attractive venue
Distinctive branding
Adventurous, multi-tiered marketing
Friendly staff
Decent wifi connection + facilities
Rigorous inventory management & general accountancy
4.
What equipment do I need for my coffee shop?
Your coffee shop kitchen will contain a lot of stainless steel. For hygiene and durability in the commercial kitchen environment, you cannot beat stainless steel. So why not review our Miran brand?
CNC-engineering for robustness and ease of use, Raqtan's stainless steel essentials come with full ISO 9001 2015 certification:
Cabinets, 8 varieties of shelving solution, trolleys, racks, ice bins, tables, exhaust hoods, bain maries, sinks, mop sinks, grease traps – and the all-important barista station.
And, of course, there's so much more to coffee shop equipment than stainless steel. 
Use our Solutions Selector app to calculate your likely equipment costs exactly – using real-word data about real products on sale. This is not a drill! All products listed are ready for delivery right now. You are welcome to browse with no obligation, and get some useful ideas.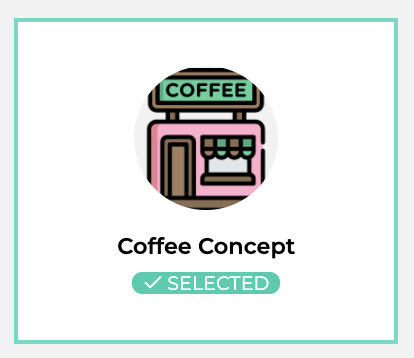 You can select one of many F&B business types – including coffee shops – for a full breakdown of recommended equipment and costs. The best bit is that you can search in even more detail, and look at coffee shops by sub-type ie. specialty, kiosk, regular café, and coffee truck.
A sample equipment breakdown for a large specialty coffee shop
(Created by Raqtan's Solution Selector app)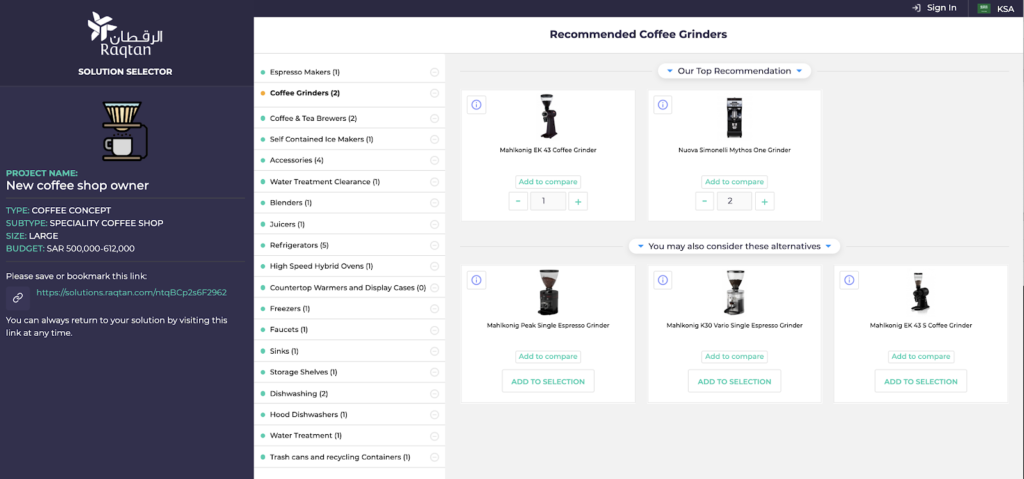 Overall, Raqtan recommends that you base your equipment list for your new coffee shop venture around the following groups of product:
Choose your coffee makers and espresso machines from high quality brands like La Marzocco , along with coffee grinders, coffee and tea brewers, decanters, satellite servers, airpots, ice makers, hot water dispenser, high-speed oven, café accessories (coffee smallware and beverageware like tampers, cups, spoons, pitchers, syrup pumps, froth thermometers, timers, creamers, condiment organizers), water treatment equipment, blenders (frappé and smoothie), juicers, refrigerators (reach-in and undercounter), sandwich prep tables, display cases (refrigerated and warmed, countertop and free-standing), freezers, sinks (underbar and compartment) and faucets, storage shelves, cleaning and washing equipment (dishwashers, chemicals and sanitizers).
This is by no means a definitive list. But for your staple requirement for your new coffee shop, as well as live actual prices, you can trust Raqtan's Solution Selector. Be sure to quiz our Raqtan experts if you have any queries.
5.
What makes a successful business plan for a coffee shop?
What 3 types of coffee shop business plan are there?
What does a business plan look like?
Ultimately a business plan is a document. In it, you divide into sections your written plans for your business. That includes everything from your overall exciting vision to numerous technicalities:
Why do I need a business plan?
Your coffee shop needs a business plan so you can present your ideas to potential investors and lenders. If you do not need investment, you will still need to have written a business plan. Why? Because in writing it, you will have to answer all relevant questions about starting a successful coffee shop. This means you have, literally, all the answers – and can proceed into business knowing that you are prepared for the worst and ready to take advantage of the best that comes your way.
What happens if I go into a business without a business plan?
You won't get any funding from borrowers, and you will quickly lose track of your income, expenditure and business direction. Few coffee shops turn a profit immediately and, without a business plan, you will be tempted to scatter your focus and funds. You will need to stick to the plan. So you need a plan.
How do I arrange start-up capital for my new coffee shop?
When dealing with potential lenders and investors, make sure your business plan is outstanding. Hire a professional business plan writer, and inject this crucial presentation of your coffee shop concept with some experience and expertise. Do not skimp on production costs. People want to lend money to organized people, so show them a slick business plan.
5.
What is the best location for my coffee shop?
Somewhere busy. The answer to this critical question is as simple as that. Location is the number one factor behind the success of many of the coffee shops which Raqtan supplies – and the right location is always busy. Go with the numbers. Invest in a location with proven high footfall. Do not cross your fingers and hope that trade will come to you, despite your quiet location, because of your outstanding brand proposition and amazing marketing. 
Location is King, and you need a busy location because the only way you can get over your coffee shop's low operating margin is to sell more coffee. You need as many people coming through the door as possible.
For specialty coffee outlets, though, you also need to be sure that you invest in the right type of busy. That means high-end locations. For kiosks, carts and regular cafés, there is more choice of busy places, like malls, travel stations, universities, markets and sports centres.
6.
What permits and licenses do I need for my new coffee shop start – up?
This will depend on which country of the GCC (or beyond) you are setting up business in. Generally, you can expect to apply for general business permissions as well as specific F&B service regulations. In the Kingdom, search for your local Municipality regulations online.
In Dubai, as an example, to open a restaurant/café of any kind you would need (as a minimum):
Specifically a Food and Trade License issued by the Department of Economic Development as well as a license from the Department of Tourism and Commercial Marketing. License cost depends on the scale and type of your start-up and the issuing department involved: from SAR 8000 upwards.
safety authorization from the Food Control Department of Dubai Municipality.
Wherever you are based, if you have a mobile venue like a coffee cart of truck, you will need a permit to claim a pitch. And don't forget driving licenses for you and your staff!
7.
What is the best layout for my coffee shop?
It does not matter what type of retail format you choose for your coffee start-up, you need to think hard and long about the positioning of your key coffee-making equipment. Even apparently small factors like where you keep your knock box – into which you empty waste coffee grounds – can radically reduce your efficiency. 
Generally for all coffee shops, the main layout issue is maintaining clear lines and minimal distance in the chain:
Ingredients – processing – counter – customer – entrance/exit.
Special considerations depend on your venue and business model:
Lots of cosy nooks and crannies to encourage customers to stay and spend.
Ensure signage on pavement does not obstruct a clear line of passage for customers up to your counter and away to make room for more customers.
Many regular cafes cram in the seating to go for high volume sales. This makes sense – or at least it did do, until Coronavirus.
As with kiosk cafes, it is important to keep customer lines of approach and exit clear to maximize footfall.
8.
How do I best market my coffee shop?
One effective way to divide up your marketing is to think of it as onsite and offsite. Onsite marketing means marketing your most profitable products, as well as future initiatives, to customers as they occupy your venue or attend your counter. Offsite marketing is all the other marketing you do: including PR, print, and social media. The trick is to get onsite marketing working with offsite marketing. When you have customers in front of you, you can use the opportunity to get them involved in offsite marketing initiatives.
Five further key areas for your marketing are:
9.
What is the 'target market' for my coffee shop?
When you are planning your new coffee shop, you need to be clear about the preferences and spending power of your average customer:
Customers want to relax, and are generally prepared to spend on high-end items.
Customers are on the go and want mass market product solutions.
Customers can be encouraged to make repeat purchases onsite, and may tolerate a range of pricing.
Customers are on the go and may consider high-end items.
10.
What is the best Point of Sale (POS) software and equipment for my coffee shop?
There's great news for budding coffee entrepreneurs when it comes to the equipment you need to make sales. The coffee sector is superbly well-served by economical POS solutions – as well as offering a range of ways to pay and order that allow clever coffee shop owners to score powerful marketing wins using technology:
Set up an app and/or website so your customers can pre-order. They love online ordering because it means a) they can enjoy looking through the tasty options you are offering and b) get served as soon as they turn up at your venue. The advantage to you, as the coffee shop owner, is that you can use online ordering to build loyalty via developing a subscriber list for use in future marketing.
Consider investing in a POS system that automatically accepts your own branded gift cards. Gift cards are great for marketing as studies have shown that, on occasions when customers use a gift card, they generally spend more than its value and make up the difference themselves; more cash for the retailer.
Does your new POS system support your own loyalty programme? Studies show that you can expect 35% more visits from customers in loyalty programmes.
Your basic setup will include a cash drawer, credit card reader and touchscreen menu ordering unit (whether fixed on a till, or on a tablet). Also required is the software system, which can be locally based or involve the Cloud.
Many POS systems allow you to conduct thorough inventory management. You will want to do this to keep an eye on key logistical info like your ideal and actual food cost percentages (read Raqtan's guide on how to calculate this critical variable for success in the F&B sector).
Remember – you and your staff will be using your POS equipment all day, every day. Not only does it have to be right for the business, but the staff need to be fully trained on it. As with any equipment choice in the F&B sector, be sure to choose a supplier you can trust to provide decent training, or you risk wasting your investment. 
11.
How do I best price my coffee shop products?
How can I make my café profitable? It is a question that faces all coffee shop owners, given the small operating profit available. One obvious way of boosting your revenues is to charge higher prices for your coffees – but to do this you will need to know what your competitors are charging, or risk over-charging.
Pricing your coffees and associated products is all about information. You need to know your total cost of ingredients per cup of coffee as the basis of all calculations. You then need to set a retail price as high as the market will sustain and your branding will support. The difference between the total cost of ingredients and the retail price is called the gross margin and, in coffee shops generally, it stands at 85%.
To avoid overcharging, you need to know three key factors:
1.  You need to know your customer, and what the     maximum is that they are prepared to spend. 
2. You need to know your location, and what price   range it will sustain (if your prices are much higher   than the surrounding retail outlets, it is likely that your   prices will be too high for the passing trade).
3. You need to know your competition, and what they   are charging for all their products.
12.
What is the best menu design for my coffee shop?
As the coffee sector has matured, the range of products on offer has become very diversified. You can buy many types of coffee now apart from traditional Arabic coffee; and you can have with them all sorts of options. The key is not to overwhelm your customers with too many options at once. Menus crammed with options can be characterful, but a menu needs to be easy on the eye for the customer to relax. 
So, on page one of your menu – and maybe even at the top of every subsequent page – offer a few staples, like regular coffee and a food item, with clear price advertising. Leave your customers in no doubt as to what you do best (and make sure these highlighted products offer a good gross margin!). You can then go into detail, with more complicated menu items, such as exotic blends of coffees, coffee-based shakes and spritzers, and coffees that come with certain additives like spices, sugars, milks etc.
13.
How should I plan my coffee shop grand opening?
14.
What is the best way of hiring and training my coffee shop staff?
What makes a café or coffee shop stand out? After thirty-five years of supplying commercial kitchens to coffee shops (amongst other F&B outlets), here at Raqtan we observe that founders need a real passion for coffee, food and service – as well as the business sense to run a tight ship. Of course, that means buying the right equipment at the right price at start-up, as well as arranging service and maintenance in a way that suits you (check out our new Sphere app).
Thank you for reading our guide to setting up a coffee shop. We hope it has been useful. We would be delighted to discuss your coffee concept project further over the phone – or why not arm yourself with a few concrete pricing ideas by using our online Solutions Selector?
Restaurant Food Truck Coffeeshop Pizzeria
Do you plan your own business?
Evaluate the cost now!​