Taking the first steps to opening a pizzeria? Got your pizza shop business plan straight? Make sure your investment leads to a profitable pizza place by following our guide to opening a pizza business in the GCC.
'Saudi Arabia is moving toward becoming a world-class global tourism hub, backed by competitive advantages that attract international travelers looking for new experiences. Thus, this creates a huge opportunity for pizza restaurants in the country, as they are the convenient go-to option.' (marketresearch.com)
Pizzas are big business in the GCC. 'Saudi Arabia pizza restaurants market is anticipated to register a CAGR [compound annual growth rate] of 11.35% during the forecast period (2020-2025).'(marketresearch.com)
Containing cheese, bread and often rich sauces, pizza used to have a reputation for being potentially unhealthy. But healthy pizzas are the hot trend; ignore it at your peril as you devise your brand offering! 
In their review of the GCC Food Industry of 2019, Middle East researchers Alpen Capital stress the need for restaurant startups to think healthy in their ingredient sourcing and recipes.
'Due to high prevalence of lifestyle diseases in the region, there is a growing awareness of healthy eating habits, which has boosted the demand for organic food and food items that are sugar & fat free, low in salt and with no preservatives.'
What ten things do I need to open a pizza restaurant?
1. Hands-on experience with making pizzas
2. A unique take on pizzas, or …
3. A willingness to do business as a franchise
4. Funding to set up your business
5. A business plan to attract funding
6. A venue to lease or buy with a great location
7. Staff you can trust to accept training and smile at customers
8. Reliable local vendors for all your fresh ingredients
9. All necessary permits and licenses (contact your Municipality for details)
10. A marketing plan
What type of pizzeria should I commit to?
There are 3 main types of pizza restaurant, divided by form of customer service:
A sit-in pizza restaurant is the most expensive type of pizzeria. As the owner, you will have to factor in all the costs of a seating area (and, if another public health emergency occurs like Covid, you may well regret your decision). But … a seated pizza experience – supported by thoughtful branding, welcoming staff and pleasant ambience – is one which you can use a base from which to do plenty of upselling, as well as develop a loyal fan base of repeat customers.
Top tip: if your budget doesn't stretch yet to a sit-in pizzeria, do not be scared to start small. It makes sense. You can always expand if your business does well as a delivery or take-out outlet.

A pizza take-out is the least expensive type of startup. That's because you won't be paying for patron seating or delivery staff. This is a lean operation, with the advantage that you can test whether there is a local market for your product. The downside is that your brand is limited to your pricing and your product and unsupported by a venue experience for your patrons.
Pizza delivery is a well-established market. If you set up as delivery only (or combine delivery with take-out and sit-in), you will have the advantage of knowing that customers are already well accustomed to dialling in a pizza. Providing your business plan has established there is any local custom at all (don't set up in the desert!), your business will be operating on a sound commercial footing. Offering delivery also offers the bonus that you can charge for delivery. On the downside, delivery means you have to organise delivery staff and deal with the many issues that come with them (health safety, personal safety, unsupervised behaviour, fleet costs).
Give your pizzeria some pzazz!
Whichever type of pizzeria you choose, you need to focus on two key customer offerings: your food, and your menu. The good news is that both of these you can control entirely, and both have been shown to anchor successful pizza restaurant startups. 
Do you love pizza? Do you love making pizza? If the answer is 'no' to either of these questions, you might like to consider another form of restaurant startup. There are plenty of other options!
But if you are a pizza whizz, you will have no problem coming up with a signature pizza for your brand (maybe you have one in mind already?). Pizzas are a flexible format and come in many regional styles. Maybe you have in mind a scrumptious Neapolitan with a soft base? A square of Sicilian? Or a deep-fried Monantara? [fyi: source for these pizza types] You can use your signature pizza as a flagship offering to get attention, and base some of your branding around it.
Certainly your pizzeria menu should feature your signature pizza as a priority. Ensure that your menu is branded the same as your venue, and make sure it is available easily on the homepage of your website. Even if you are aiming for a very specific offering (vegetarian pizzas, for example) be sure to mix innovation with old favourites. Don't give a massive choice, as this can be intimidating (it also makes your logistics a lot easier if you limit your menu to dishes you are well set up for). Review some top tips from Raqtan on designing a powerfully-enticing menu.
How much does your signature pizza cost? Use Raqtan's simple guide to food cost calculations and find out! If your signature pizza is more expensive than others on your menu, do not worry – it will be worth the extra cost to have a single standout offering to your patrons.
The best pizza, they say, is free pizza! You can certainly give away pizza as part of your promotional activity but, generally, free pizza is tomorrow, right?
One key aspect of your business plan is to get your financials straight. You need to show potential investors and/or lenders that your pizzas are going to make money. That's the central purpose of your business plan – and it has other objectives too:
You have decided to specialise in pizzas, but Rule Number One for all restaurant business plans remains the same: in your Executive Summary, be sure that the reader hears of your 'great location'. Location is a key predictor of restaurant success. As part of your business plan, be sure to research the local area of your venue thoroughly. Make sure you can prove that there are potential customers in range who suit your brand profile; for example, if you are setting up as a trendy place for Millennials, ensure you establish that there are Millennials locally. If, on the other hand, you are setting up as a trendy gourmet venue, be sure to prove that there are consumers locally who can afford you!
Apart from researching the area around your planned venue, you need to make sure that your location is a place where people go already. You need footfall, unless your pizza startup is delivery only. If you have a sit-in venue, you need to have consumers in the area to benefit from lucrative 'drop-in' trade. 
Pizzerias attract much drop-in custom because a) they have a strong, enticing smell that can drift out of your venue into the street and b) pizzas do not take long to eat. Your premises also need to be as visible as possible; be sure your visual branding scheme takes into account how neighbouring buildings are branded. Stand out!
Another key factor in the location of your restaurant is your ingredient suppliers. Where are they based? A full pizzeria menu will involve a large range of ingredients. And, ideally, you will want to use as much fresh material as possible. So make sure you position your venue where you can source what you need easily.
You have probably heard of franchising. It means that an established restaurant charges entrepreneurs to use its brand and products to run a business on their own. The advantages for the franchisee is that the brand is already well-known and the products already successful; the disadvantage with franchising is that an array of costs and ongoing charges are involved. You need a big chunk of capital to get started and, however well you do, you will never be free to do exactly as you like with your business.
Full training is given by franchisers. But, before you even look at franchising, ensure that you have hands-on experience in the trade first. Otherwise, you are unlikely to convince the franchising company that you can represent them. And, with no experience, you may end up tying yourself to pizzas when you have no interest in them at all.
There are plenty of successful pizza franchise owners in the GCC. Pizza Hut, for example has more than 400 restaurants in the UAE, with an initial investment estimated to be in the region of 1,125,000 Riyals (that's all start-up costs). Delivery-only Domino's Pizza is established too, requiring a lesser initial investment of 450,000 Riyals.
Here at Raqtan we worked successfully to kit out the Sbarro pizza franchise in Jeddah. Sbarro hail from Brooklyn, New York, and offers the XL New York pizza slice as its signature dish. Raqtan handled the project management and installation of kitchen equipment, coldroom technology, fire suppression kit and water filtration. We know that pizza franchising works great for conscientious entrepreneurs.   
What equipment do I need for my pizza restaurant startup?
You can use Raqtan's solution selector to list precisely what equipment is required for your pizzeria startup.
A pizza startup is just one of thirteen different restaurant types for which we have prepared custom equipment lists: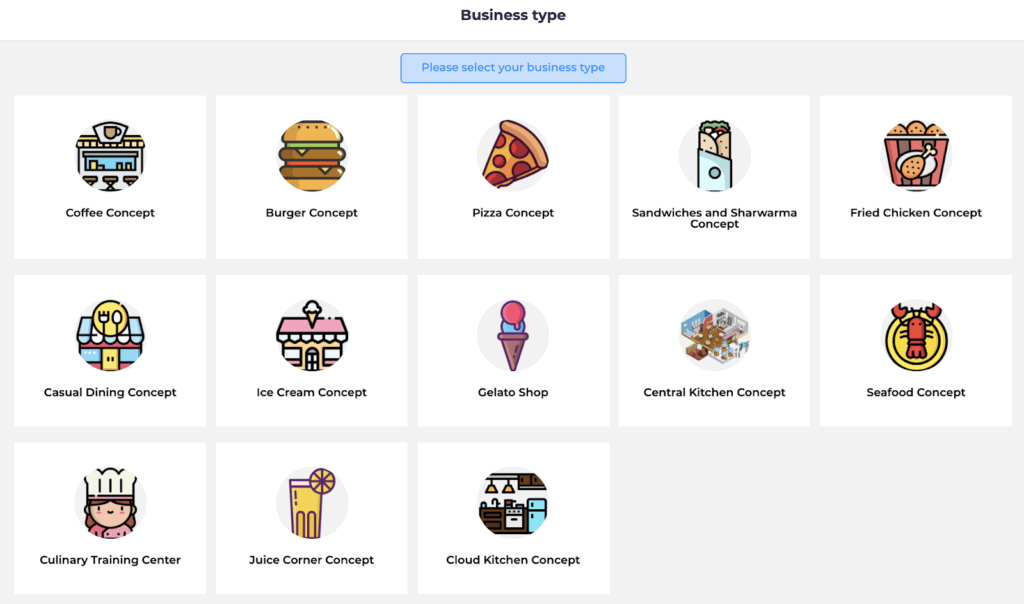 You can choose from six different types (and sizes) of pizza business: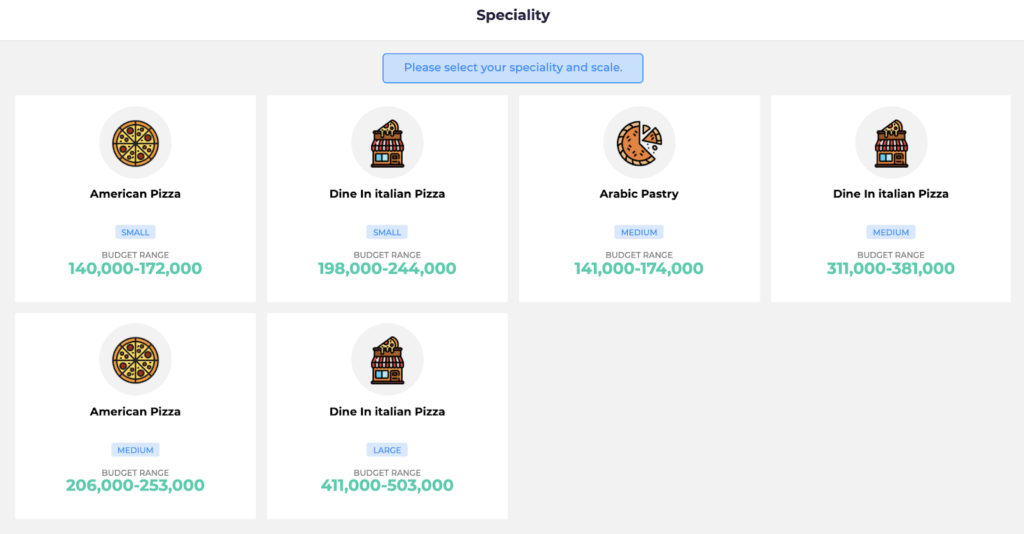 For each type of pizza business, you can inspect a) a list of equipment categories and b) our brand/model recommendations for each one. Below, for example, is our specification for a large American pizza dine-in restaurant: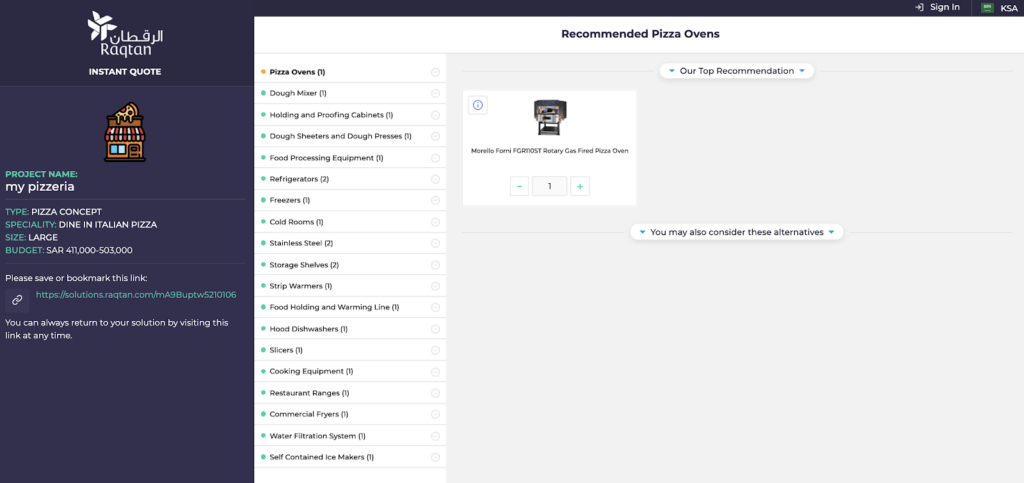 For your pizza startup, you will need to make decisions about your pizza ovens, dough mixers, holding and proofing cabinets, dough sheeters and pressers, food processors, refrigerators, freezers, cold room, stainless steel worktops, islands and surfaces, strip warmers, food holding and warming line end-loaders, hood dishwashers, slicers, cooking utensils, ranges, fryers, water filtration systems, ice makers – and, of course, all crockery, glassware and utensils used by customers when dining in.
Marketing and Advertising
Your staff need to be natural smilers as well as happy to train properly. Global restaurant consultants Aaron Allen say that 'proper training can reduce food costs by 0.5% of revenue.' With profit margins in the pizza trade being so thin, this 0.5% can make all the difference to the efficiency of your startup. So get training!
If your pizza business is dine-in, it is important to host a Grand Opening. This gives you the opportunity to make a big, positive impact on the local dining scene. It also allows you to build a list of customers which you can use in future marketing. Here are five top tips for your Grand Opening:
Thank you for reading our guide to starting up a successful pizza business in the GCC. 
You must learn to strike a balance between learning from others in the business and doing your own experiments. In the areas of restaurant layout, hygiene, and regulation, it makes sense to follow the standard implementational routes that have served other businesses well. In the area of pricing and recipes, however, it will be worth your while experimenting and seeing what works for your particular clientele. Even with your choice of venue, dip your toe in the water – experiment with a pizza food truck first for less investment.
In opening a pizzeria startup, you have chosen well. The pizza business is on the up in the Kingdom and substantial experience has been gained by others in being successful. Learn from others. Do your research. Benefit from increasing numbers of pizza-friendly consumers. And keep going! 
If you would like to raise a comment or query, please do so with the simple form below.
Restaurant Food Truck Coffeeshop Pizzeria
Do you plan your own business?
Evaluate the cost now!​